Advocacy & Promoting Our Clinics
Leticia Flores, Ph.D

From April 3 - 4, three APTC members had the privilege of presenting at the "National Conference on Law Clinics Serving Veterans" in Washington, DC. Beth Heller (Virginia Commonwealth University), Robyn Mehlenbeck (George Mason University) and I (University of Tennessee) represented our clinics as partners with William & Mary's Lewis B. Puller Jr. veterans benefits clinic. Many law schools were in attendance including Syracuse, Yale and Duquesne, to name a few.
Specifically, we directors discussed the integral role we have played in W&M's clinic as they pursue various claims on behalf of veterans and service members. We described the assessment, therapy, and consultative services our students and supervisors provide as well as the administrative oversight we personally provide. We discussed the benefits for our graduate students (many of whom seek VA practica and internships) and the law students, who collaborate across disciplines and learn about each other's professional roles. For many of the conference attendees, this kind of collaboration was unique and previously unheard of, and they were eager to learn more.
We each left the conference with business cards from lawyers asking about training clinics in their area that might be willing to work with them. We had achieved our aim- to promote our clinics as valuable partners for other disciplines. We also enjoyed a paid trip to DC, the opportunity to meet political bigwigs, added a presentation to our CVs, and did some good networking. We now hope to serve as liaisons between our APTC colleagues and veterans benefits clinics. If you have any interest in getting involved with veterans clinics, please contact Robyn, Beth or me, and we can give you more information and make introductions.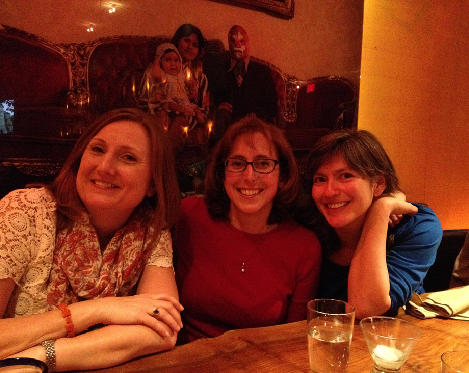 At Oyamel Cocina Mexicana after a successful presentation.