Internship Creation, 1: University of Vermont
Clinical Psychology Internship (CPIP)

Karen Fondacaro, Ph.D.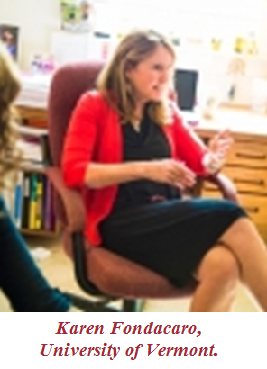 Directors frequently ask me, "Is it possible to create an internship at my practicum training clinic?" I would have thought it was impossible before we actually created an internship, were subsequently APA accredited, and received a grant (HRSA) to support the financial sustainability of the internship – all in three years. This unexpected journey provided me with some knowledge about the important aspects of creating and maintaining an internship. So, I'll describe our program and then discuss the important components.
The University of Vermont (UVM) Clinical Psychology Internship Program (CPIP) is a pre-doctoral internship program in Clinical Psychology offering integrated training at the UVM Department of Psychology Behavior Therapy and Psychotherapy Center (BTPC) and the UVM Department of Psychiatry Vermont Center for Children, Youth, and Families. The UVM CPIP is the only professional training program in Vermont that offers advanced training in evidence-based, culturally-informed, interdisciplinary mental health treatment of at risk children, adolescents, adults, and their families, including refugees. The CPIP is innovative because it (1) is an integrated training program between the departments of Psychology and Psychiatry, (2) has a large inter-disciplinary training component, (3) has a large training component in culturally competent practice with refugees and survivors of torture, and (4) includes a large training component in family-based prevention and intervention.
From my perspective, some of the critical aspects of the program include providing: 1) graded experiences and sequential learning in which the internship clearly stands out beyond the practicum site; 2) collaboration with another entity to show multidisciplinary functioning; 3) ability to evaluate students effectively; 4) commitment to the self study; and 5) progress towards sustainability.